Dear Members and Friends
Over the past 12 weeks, as I've used Zoom for church services, meditation, meetings, training, and socials, I've been aware of the inventive and creative ways people have been making use of technology for leisure and recreation; choirs, concerts, keep-fit and yoga classes, quizzes, art classes, virtual gallery tours, tea-parties, marathons – and much more – all online! With so many activities cancelled 'in person', I'm sure I'm not the only one to give thanks for the technology that enables people to stay connected and pursue their interests, albeit in very different ways. As has been pointed out, if this pandemic had happened even 10 years ago, it would have been a very different story (though I remain mindful of those who for various reasons are still not able to access technology, and the need to ensure they are not forgotten.) Whilst the lockdown for many of us is slowly lifting, we won't be able to meet in large groups any time soon and will continue to need creative ways to connect.
The week before last, my husband Rob enjoyed taking part in a 'virtual' Ukulele camp organised by Chapel members, Shirley and David Faraday. To get into the spirit he pitched a tent in our garden and slept out several nights. As well as learning new songs and playing old favourites, during the 'camp' they managed a virtual garden tour, a virtual cream tea, and a virtual ride on the 'Bluebell railway'! I joined them one evening for a uke jam from the tent. Whilst not the same as being seated together round a campfire, being under canvas created the sense of an evening out – and time apart from the ordinary.
This week I decided to make use of the tent for my virtual retreat with other ministers. Having checked it was sufficiently sound-proof, the tent provided a welcome space away from my home-office. Of course, it wasn't the same as meeting with colleagues face to face in the beautiful surroundings of Holland House (retreat centre in Evesham), but once again, the tent helped create a sense of time apart. I liked it so much we've decided to leave the tent up for  few more weeks, as a space for meditation and relaxation. Perhaps before summer is out I'll even get to sleep in it!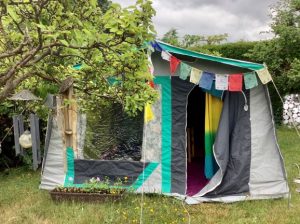 As I enjoy the 'novelty' of being under canvas, I'm mindful of how fortunate I am to have the technological means to zoom from a tent – and to have a tent – and a garden to put it in. Mindful of how fortunate I am, when so many are cooped up in high rise blocks with no nearby access to green spaces; when those on the streets lack even the smallest of shelters, when refugees families are cramped into tents no bigger than ours 24/7 with no sanitation, and no house to escape to when it gets cold and wet. These last few months – despite the steep learning curve as I've had to do ministry differently – I've been reminded over and over of my privilege, and the many blessings in my life.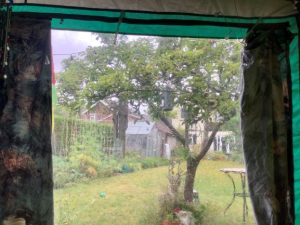 And talking of doing things differently, on Sunday 28th June I invite you to a different kind of service. As we can't meet at the Chapel for our usual All Age service and picnic in the grounds, I am inviting a 'picnic' of contributions for our zoom service. It could be a poem or short prose passage, a prayer or meditation, a few words of your own, or words of others that inspire you (and don't let shyness stop you, as I can read your contribution or find readers to do so, on your behalf). Or you might have a song or piece of music – or a photo or a piece of art-work – that you'd like to share. Contributions from our young people are also welcome. I'd like this to be a service that celebrates our Chapel Community – and the combined gifts, wisdom and insights we collectively bring. So please be email me asap – if you have something to share. I will need contributions in advance of the service – and by Thurs 25th June at the latest.
Another thing we would probably have been doing in the Chapel grounds, this weekend – if not for the pandemic – is hosting a Community Tea Party in memory of Jo Cox. For the past 3 years we've hosted this in June as part of the Great Get Together – along with thousands of others up and down the country, celebrating the power of community.  M.P Jo Cox was killed on the 16th of June 2016. In her first speech in Parliament, she said, "We have more in common than that which divides us" and the values she stood for – equality, respect for diversity, tolerance and compassion – are needed more than ever in these challenging times.
Jo used to say we must focus on the things we can do, not what we can't. During the pandemic there are still many things we can do to connect with each other and with our neighbours. Maybe this weekend we can honour Jo's memory by sharing a cuppa in the garden, or raising a toast with a friend, or reaching out to a stranger. Below is a reminder of the fun we had at last year's tea party – and perhaps next year the sun will shine, the band will play, and we'll drink tea and eat cake together – not virtually – but face to face!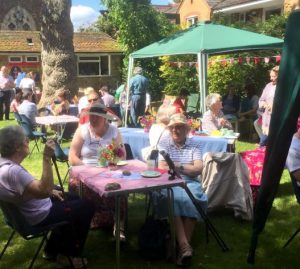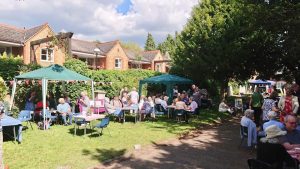 In faith and hope, Sheena