Yesterday it was announced that face masks are to be mandatory in places of worship, as from 8th August. This will come into effect for our first 'trial' service in the Chapel since lockdown – on Sunday 9th August. Wearing a face covering may not be to everyone's liking, but for others it will offer reassurance. Spaces are strictly limited to 16 and will be allocated in advance – with priority given to those who have not been able to Zoom into services.  It will no doubt feel strange – with no communal singing, and no refreshments afterwards – but there will still be music, words for reflection and the chance to sit with friends in the peaceful ambience of the Chapel.  We hope to have the tech in place to Zoom the service from the Chapel and will be inviting our regular Zoomers to join us from afar. This will be something of an experiment. There may be a few technical glitches along the way, so we will be inviting feedback, in order to fine-tune things for future services.
If all goes to plan on 9th August, we hope from September to offer one (maybe two) services a month in the Chapel for a restricted number (continuing with 'Zoom only' services, the other weeks). All this is subject to change, as the impact of Covid 19 and Government guidelines continue to change – sometimes at short notice! Sadly, the recent local lockdowns in certain parts of this country, the sudden restrictions on holidays to Spain, and postponement on weddings, are further signs we are not yet out of the woods.  I hope you will understand that with so many uncertainties, neither I nor the Chapel trustees can offer concrete proposals as to when we can all meet together as one community in the Chapel. But we will continue to do all we can, to ensure the Chapel community has opportunities to meet online – and in person – where possible.
Through these challenging times – whatever our human woes – nature continues to offer up her abundance from the good earth. Today, the 1st of August, is known as Lammas day (which derives from 'Loaf-mass'), or Lughnasadh, in the Pagan/ Celtic Christian calendar.  It is the first of the harvest festivals – focussed on the grain – and associated with the cycle of life, death and rebirth. The word 'cereal' is derived from Ceres, the Roman name for the Grain Goddess, or Corn Mother (Demeter in Greek) – and in folklore the harvest of grain is associated with the figure of John Barleycorn – who must die in order for new life to spring forth. The turn of the month also marks a shift in the season. Whilst still enjoying fine weather and traditionally the time for holidays, August is the last 'outward' month, before the 'inward' Autumnal months beckon us towards Winter.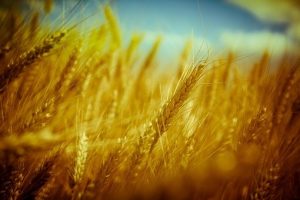 One central ritual of Lammas has traditionally been the cutting of the first corn and making it into a loaf for the Mass in church on August 1st or 2nd. In our household we are not cutting grain nor baking bread, but we are already reaping the fruits of the good earth (and Rob's labours!) – having enjoyed the first crop of new potatoes from our garden. The tomatoes are slowly beginning to blush with red, the trees are laden with apples, pears (even figs) – and the grape vine is growing more vigorously than ever before.  Whatever the trials of our times, we are fortunate to have access to the abundance that nature provides (whilst remembering those who in these times, are not so fortunate.)
Some words of blessing for Lammas by Tess Ward (adapted) from                                           'The Celtic Wheel of the year':
Blessed are you Fruitful One, giver of abundance and plenty,                                                   Giver of resources when stocks are low…
Praise to you Unseen Love,                                                                                                         for you buried deep within us the seed of life                                                                           and watch us grow from newly green to golden                                                                         like the fields that turn at this time.                                                                                      Praise for the tenderness of your eye                                                                                       when we survey the first fruits of all that we harvested this year.                                              Praise for the new seed from the old,                                                                                     that will flourish with the coming year                                                                                      in ways that we cannot imagine.
Generous One of the Harvest walk alongside those who have sown in tears,                                  who have scattered their seed without hope,                                                                                 on a land not of their choosing.                                                                                                     Come close to those who weep this day.
Shine your abundant love on them                                                                                               that they might come back singing                                                                                               carrying their sheaves of joy.        

In faith and hope, Sheena