This is our 2nd Easter in Lockdown. Last Easter I spoke of our confinement as like being in a tomb.           I didn't expect we'd still be in the tomb a year on! It would have been wonderful if we could have           rolled away the stone of restrictions today, to meet back in the Chapel and sing our hearts out. That      would have felt like resurrection and given rise to 'Hallelujahs'. But as we have found this past year        the calendar does not always correspond to the inner rhythm of our own experience, nor the outer          circumstances of the world! Legally we could have opened our Chapel today – but having to socially        distance, with a limited number – masked up – no singing – no coffee or chocolate! It wouldn't have felt much like Easter. So here we are for our 2nd Easter on Zoom – in the hope that within the next few        months, we can have a belated celebration and chocolate!) back at the Chapel.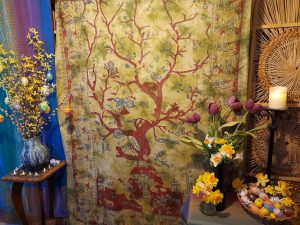 Sheena's home office cum chapel decked out for Easter!
I'm sometimes asked by people unfamiliar with Unitarianism, whether we celebrate Easter. Because Unitarians as a rule don't hold with the mainstream Christian views, some folk are puzzled when I say 'yes'. It takes some explaining that whilst we don't hold with the traditional Christian view of atonement or the bodily resurrection of Jesus – that doesn't mean Easter still can't have spiritual significance… And that amongst Unitarians there are a wide variety of views. Some see it primarily as a spring festival of renewal – the earth awaking after winter. Many Unitarians see the story of Jesus rising from the dead as symbolic – signifying the love and truth that cannot be destroyed by brutal human powers, or as a metaphor for resurrections of the heart, after times of loss and grief.  Other Unitarians are more wedded to the Gospel narratives and believe in some kind of spiritual resurrection of Christ – the conviction that his spirit lives on as a living presence.  There are so many views – it would be impossible to give a definitive view (of course this isn't just true for Unitarians). It can be difficult as a minister of such a broad church, to encompass such a multiplicity – but that's the bread and butter of what we try to do! Our service today offered a variety of voices on Easter- including contributions by Members and Friends of Godalming Unitarians. The first contribution – a few thoughts by 2 of our young people:
Aidan Walsh Santos age 7:  "What I believe about Easter -The eggs represent the stone that was rolled away from Jesus' tomb. The Easter bunnies and chicks represent the animals that were there when Jesus was born.  And I believe it's a story that you can cherish love and that there's life before death."
Tailah Walsh Santos aged 9: "I believe what Easter is – that it shares new life coming – how chicks, lambs and bunnies are born during the spring. I also believe that it brought hope to people who believed in Jesus."
Another contribution – a poem written especially for the occasion by Nicola Young – about the rituals of spring, preparing food, the truths hidden in the old stories – how we need them in our time: "Now as the light shifts again, let us make new loving stories, in which each child can belong to tell to our little Best Beloveds, so they know how to love; Let's stretch out our Easter hands and use our kitchen steps to reach across the countries of our fractured world."
Paul Richards offered an extract from a letter by the composer Richard Wagner about Good Friday; "Day of Redemption. God in suffering. Who can take the tremendous scale of it? …God in our hearts – the God that is grasped in the deepest pain of fellow feeling!" and speaks of the grail legend in Parsifal with its links to the crucifixion.
Edie Campbell recorded an extract from the poem by Marge Piercy 'Common Living Dirt' about the miraculous renewal of nature: "The soil stretches naked. All winter hidden under the down comforter of snow, delicious now, rich in the hand as chocolate cake… As I kneel to put seeds in, careful as stitching, I am in love… I worship on my knees, laying the seeds in you, that worship rooted in need, in hunger, in kinship… My garden's a chapel, but a meadow gone wild in grass and flower is a cathedral."
I read on behalf on Susie Kirkpatrick her favourite poem by e.e.cummings: "I thank you God for most this most amazing day for the leaping greenly spirits of trees and a blue true dream of sky and for everything which is natural which is infinite which is yes…"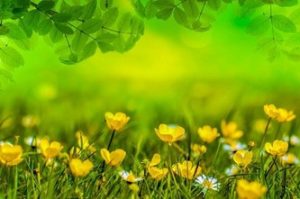 And Rob Oulton based his reflections around the poem Love (III) by George Herbert, saying 'something about the first line "Love bade me welcome" seems to echo the openness, generosity and the non-discrimination of Jesus' life and message… I think spiritual energy is very fragile and hard to discern in this world, but nevertheless, pervasive and surprisngly resilient – it will never stop trying to get our attention. What better way to express this than "You must sit down", says Love, "and taste my meat." '
6 contributions – just a small fraction of the many perspectives on this season… For myself – my own spiritual journey towards making sense of Easter has been a long one. You can't have Easter Sunday without Good Friday – but I know the cross is a difficult symbol for many Unitarians – as it has been for me. Raised with the doctrine that Jesus had to die for my 'sins' to appease an angry God, left me confused, and burdened with guilt. I don't mean to disparage atonement theology for those Christians who believe it to be true, but it's not the only way of viewing the cross. I believe Jesus died because of the corrupt political and religious powers of his day – who could not accept his message of love. And ever since millions upon millions have died and continue to die on the cross of human brutality. Whilst Good Friday tells the story of one unique man, it is in some sense the story of every man, woman and child who suffers grievously. The cross isn't an easy symbol, but it is a crucial part of the Easter story….
As for the resurrection – that's even trickier for many of us to get our heads around.  Our last hymn today is a difficult one for sceptics and doubters! I recall singing the hymn at the Royal Albert Hall on Easter Monday – where I went each year with folk from my church for a service of celebration with 1000's of others – how the words stuck in my throat. As a serious young teenager – full of doubt, angst and melancholy – I could not force myself into a joyous mood, or embrace the reality of the bodily resurrection of Christ – much as I wanted to. Many years later, having slowly spiralled back to my Christian roots – from a wider perspective – I have finally made these words my own – and can sing 'Jesus Christ is risen today' – in a way that makes sense for me.  Not Christ as the only begotten Son of God who died for my sins, but the Christ who is 'a way shower' – who models for me what it is to live at one with that reality of Love which I call God, the Christ who embodies what it is to surrender my little ego in the service of something greater, the Christ who is a living reality in a way I can't put into words….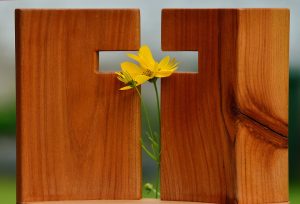 Like other Unitarians I'm content to celebrate Easter Sunday with the words "We don't know what happened but…" recognising the mystery that is inherent in the story – but recognising that something happened to kickstart a spiritual movement that changed the course of history. In Mark's Gospel (thought to be the oldest of the 4 canonical Gospels and thus the most reliable) in the earliest manuscripts, the women visit the tomb and find the stone rolled away. They are told by a 'young man' that Jesus has been raised and that that must tell the disciples. But the women "fled from the tomb, for terror and amazement had ceased them; and they said nothing to anyone for they were afraid." It ends the story there. Later manuscripts add the more dramatic ending and the appearances of Jesus. Unitarians are by and large more comfortable with Mark's original ending … "We don't know what happened but…"
And whatever your thoughts about the resurrection, perhaps we can agree that the spirit of Jesus' teaching lives on – and is summed up simply by Aidan at the beginning of our service ('out of the mouth's of babes'!) "that we should cherish love" ("Love one another") and "there is life before death" (the kingdom of heaven is within you and among you"). And that is something worth celebrating – even if it has to be on Zoom!  Happy Easter!
In Faith and Hope, Sheena