Dear Members and Friends of Godalming Unitarians
I hope this finds you physically well and managing to keep your spirits up, as we hunker down to the 2nd week of lock-down. Below are some updates and notices of forthcoming events:
Sunday Service
Last Sunday over 20 of us met online for our first Zoom service. Despite some technical hitches (due to clock changes and time limits!) it was lovely to see familiar, friendly faces from the comfort of my office-turned-worship-space!
I've now set up a paid Zoom account for the Chapel, so services from here on in, should be more straightforward, with no risk of getting cut off. Please contact webadmin@unitariangodalming.org.uk for web links to the next Zoom Sunday service.
I attach the Palm Sunday Service 2020 script, for those of you who'd rather read it through, or missed the online service.
---
Community Chat
On Tuesday, 15 of us from the Chapel community met for our first Zoom Community Chat and caught up on news, joys and concerns. It was good to hear how people are managing in these strange times, and from our sharing, I felt a sense of solidarity; whilst our circumstances differ, we're all in this together. I'm setting up another time of sharing on Tuesday 7th – note the later time of 4pm. Please fell free to join us for all or some of it, using the link below:
Sheena Gabriel is inviting you to a scheduled Zoom meeting.
Topic: Time of sharing / Community Chat
Time: Apr 7, 2020 04:00 PM London
Contact webadmin@unitariangodalming.org.uk for web links
---
Other Chapel Events
On Wednesday Rob and I offered our first meditation via Zoom. It felt a bit strange meditating from my office chair in front of a screen -but I'm sure I'll get used to it! It was heartening to be joined online by 10 people (along with other folk meditating off line). If you'd like to to get the weekly meditation updates and script, please contact Rob robert.oulton@btinternet.com
On Good Friday as we're unable to offer our usual meditative service and lunch, Rob and I will be spending some time reflecting on the passion story, lighting candles, and praying for the needs of our community and our world. We invite you to join us anytime in your own homes between 11am and 1pm – holding in our hearts people known to us, and those unknown – who are suffering, or in need at this time.
---
IT Support
Zoom is proving to be a great way to keep in touch and I encourage anyone who's not yet tried it, to give it a go. If you have a computer or smart phone, it's straight-forward enough; you don't need to set up an account and it's free to join a meeting. I say this as someone who a few weeks back thought on-line platforms as beyond my capabilities; now having managed it without too much trouble, I have confidence others can too! If you have problems with setting Zoom up, or need advice on other tech things, there is help available via email or phone – see memo below from Unitarian HQ:
With technology being such a lifeline for communication at the moment, we are conscious of those who are less confident in using the internet and taking part in videocalls. We are delighted to announce that Netserve Ltd, an IT support company, is stepping in to offer us some help. Will Bellows, Netserve's founder says "We are offering telephone advice to the Unitarian community who are currently on lockdown and want to stay connected with their friends, family and the Unitarian community via video calls. Please contact our dedicated helpdesk on 02037288415 or email – theteam@netserve.support and we will be happy to help." Netserve are ready to help with any tech challenges, large or small!
---
'Being Together' – National Unitarians Online Gathering 5th-7th April
Some of us were due to gather at Birmingham next week for the Annual Meetings. As we can no longer meet face to face, the General Assembly of
Unitarians and Free Christians have organised a 3 day programme of online workshops, meditations and talks (via Facebook and Zoom) that anyone can sign up to. For more details visit:
---
On Blossoms and Courage "I said to the almond tree: 'Sister, speak to me of God' and the almond tree blossomed' – Nikos Kazantzakis
On my daily walks I've been trying to stop and notice the trees coming into bloom – inspired by a recent article in the Guardian newspaper. The National Trust is encouraging the British people to begin a new tradition, emulating the Japanese custom of 'Hanami' – a big event in the Japanese calendar centred on flowering cherry trees. The NT invites people to join its #BlossomWatch scheme as "a salve to the spirit in this most difficult of springtimes."
I've been giving thanks for every blossom tree (and flowering magnolia) I encounter – their fleeting, ephemeral beauty, seeming even more lovely, given the times we are living through. Down at the Chapel, there are signs of new life stirring; from the blue-tits in the eaves, to the lime green buds of trees. Our Chapel may be temporarily closed, but let's keep our eyes and hearts open to the cathedral of nature which is always available to us. And for those of you unable to leave your homes, I hope you can glimpse through your windows, some of the sights and sounds of new life all around.
I share with you 3 photos, which celebrate trees in all their spring finery: candy-floss blossoms in a nearby street; a budding green globe in the Chapel grounds; and the fragile white dusting of the plum tree in our garden.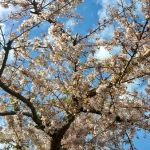 ---
And as we approach Holy Week in the Christian calendar – remembering the journey of Jesus of Nazareth towards the cross, and considering how life and death intersects in our own consciousness, perhaps as never before – I offer some words that capture the bittersweetness of this season:
"The bamboo for prosperity," a Japanese friend explained to me, "the pine for long life, the plum for courage – "
"Why the plum for courage?" I asked, picturing courage as a great oak.
"Yes, yes," answered my friend.
"The plum for courage because the plum puts forth blossoms while the snow is still on the ground."
Anne Morrow Lindbergh – North to the Orient
In faith and hope, Sheena
Rev. Sheena Gabriel
---