Dear Members and Friends of Godalming Unitarians
I hope this finds you well and able to make the most of this lovely weather – albeit for some of you from a back garden or open window! As we enter another week of lock-down, despite the inevitable limitations and frustrations, I hope the routine of gathering online for Sunday services, or reading through scripts at home, is helping you to still feel connected as a Chapel community. I am grateful to Chapel members and friends who have risen to the challenge of offering Sunday services via Zoom, so that for the next couple of months at least, we can continue to meet virtually each week. It's also been good to see people online for our Tuesday Community Chats and Wednesday meditation – which we plan to continue. Whilst it's not the same as meeting in person and many of us will be missing face to face contact, one 'silver' lining of online meetings is that we have been joined by people who live further afield and wouldn't normally be able to join us.
Tomorrow's Sunday service offers the chance to explore more 'silver linings' – with the chance to share some of the good things to come out of the pandemic. (With a change to the schedule, rather than being a full 'All Age' service, our young people are invited to join us at the beginning for a story and a song).
I'll be online from 10.50 to welcome you – please arrive in good time for a prompt 11 am start!
Sunday Service – Time: Apr 26, 2020 11:00 AM London
contact webadmin@unitariangodalming.org.uk for Zoom invites
Click here for the service script, for those of you who'd rather read it through, than join us online.
On Tuesday 28th April we have our online Community Chat at 4pm and on Wednesday 29th our online Meditation.
contact webadmin@unitariangodalming.org.uk for Zoom invites
Whilst mindful of the harsh realities many are living through, in preparing this Sunday's service and reflecting on the positive stories to come out of the pandemic (which in no way negate the difficulties) I've been reminded of a poem by the Zen Buddhist monk, Thich Nhat Hahn, which I share in part.
The Good News
They don't publish
the good news.
The good news is published
by us.
We have a special edition every moment,
and we need you to read it.
The good news is that you are alive,
and the linden tree is still there …
The good news is that you have wonderful eyes
to touch the blue sky….
They only print what is wrong.
Look at each of our special editions.
We always offer the things that are not wrong.
We want you to benefit from them
and help protect them.
The dandelion is there by the sidewalk,
smiling its wondrous smile,
singing the song of eternity.
Listen! You have ears that can hear it.
Bow your head.
Listen to it….
As our world has shrunk, for some of us down to the size of our back garden or a few streets, as we read so many stories in the news that raise our anxiety levels, so too, nature invites us to find the miracle in the ordinary and commonplace; even the humble dandelion – a common 'weed' – if we are awake, greets us with its sunny smile. The photo shows one of the many dandelions still standing in our garden, after Rob decided to mow around them yesterday – leaving them as sunny senitels of courage, and food for pollinators!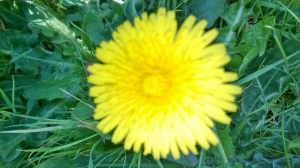 I hope whatever your current challenges are, that you have at least some moments to 'stand and stare' – in William Blake's words:
"To see a World in a Grain of Sand.
And a Heaven in a Wild Flower.
Hold Infinity in the palm of your hand.
And Eternity in an hour.
In Faith and Hope, Sheena
---
Rev. Sheena Gabriel