We offer drop-in Community Art sessions in the hall once a month on Thursday afternoons. These are informal sessions for people wanting to try their hand at drawing and painting – all materials are provided and there is no charge (though a small donation to cover costs is appreciated). No artistic experience is required and guidance is available.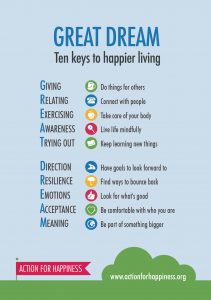 Come and discover your creativity in a relaxed, informal setting – or just drop by for a cup of tea and chat.
We are delighted that our monthly Community Art Cafe event is to belong to the Happy Cafe network, part of the charity Action for Happiness – a movement of people committed to building a happier and more caring society.
The next scheduled events are shown below:
Jul
14
Thu
Community Art Cuppa
Jul 14 @ 2:00 pm – 4:00 pm
Community Art Cafe takes place one a month from 2 – 4pm in the Hall. Contact Pam 07790 893 622.
Come and paint, draw, craft, collage, knit or crochet or even try origami! Or just come for a chat and a cuppa. Art materials provided or bring your own project. All levels of experience welcome.