Children and Families
Godalming Unitarians is a community of all ages. On two Sundays per month there are activities offered for children.
Children's Programme
Families and children are welcomed to all services. On the 2nd Sunday of the month there will be a story for all ages at the beginning of the service. After this, children and parents can play with toys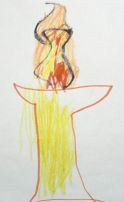 , look at books, do colouring or bring their own activities to do in the gallery during the service. Children under 12 must be accompanied by a parent in the gallery. On the 4th Sunday of the month there is either an All Age service, or story for all ages at the beginning followed by activities for children in the hall. The activities are based around Unitarian principles and are meant to be FUN with stories, crafts, role-play and games. We plan our activities to be thought-provoking and creative, building confidence, friendships and ability.
All Age Services
Every two months on the 4th Sunday there is an All Age service for adults and children to worship together with stories, singing and something for everyone. After this service there is normally a shared "pot luck" lunch. All are welcome.
Other activities
Children from the age of 7 upwards have the opportunity to take part in wider Unitarian Children and Youth events such as Unikids (based in the South East), Uniteenz (for teens) and Junior, Inter and Senior Weekends at The Nightingale Centre, Great Hucklow in Derbyshire. Information about the Unitarian Youth Programme can be found on the UK Unitarian website

Louise Baumberg is the committee member who has responsibility of children and families. For more info on any aspect of children, youth and families at Meadrow, email Louise at childrens@unitariangodalming.org.uk