History
The Unitarian Ch

urch is over 200 years old in Britain and in many countries of the world it is much older. The chapel in Meadrow, Godalming, was begun in 1783 by a splinter group from the Baptist Church (the General Baptists) who were in favour of a more liberal theology. At that time Meadrow was a hamlet near Godalming, hence the use of "Meadrow", rather than Godalming in its name. For some years the religious practice of these free-thinking people still included baptism by total immersion in water, and the original baptistery is still under the floor of the chapel. During the course of the following century, the community became progressively more liberal, until eventually it identified itself with the flourishing Unitarian movement of the 19th century.
The community grew in number around this time and built a larger place of worship near the road, now known as the Unitarian Hall. The original 18th century chapel was then used as the schoolroom. The late Peter Stock, a local historian, known for his study of religious non-conformism in South West Surrey, has written: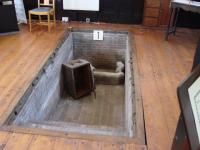 The Godalming chapel flourished in the 19th century and was mainly responsible for the founding of the Bridge Road "British School", having been actively involved in providing education for poor children on its own premises, and building up a free lending library for adults.
The location and architectural features of the 18th century chapel are historically significant. Non-conformists were actively persecuted at the time and for many years afterwards, so their places of worship were built in discreet locations outside towns. Meadrow chapel is typical in many ways: situated well back from the road, it has no spire, no stained glass windows, and in its proportions would not stand out from some of the dwelling houses of its period.
There is a small cross above the entrance, kept there to remind us of the Christian roots of the community, though the worshipping congregation for over 150 years now has adhered to no dogma or doctrine.